The Bold and the Beefaroni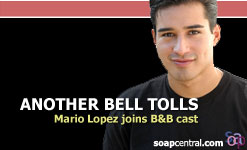 Set your VCR's boys (and girls). On March 20th daytime television will change forever.
Mario Lopez
will be joining the cast of CBS's daytime soap opera,
The Bold And The Beautiful
. Mario will be playing a doctor. Hoepfully the producers of the series will take advantage of Mario's beefy bubble butt, rock hard pecs and sculpted arms and change his character's profession to a lifeguard. What the world needs now is more Mario Lopez in speedos.
Some of you may be snickering at this post, but B&B is viewed in over 30 countries across the world. This will give Mario a chance to enchant men and women from all nations and walks of life with his good looks, charm and undeniable acting skills. I suspect world peace is just around the corner!
A daytime televison revolution is on its way, and I will be there for every moment of it with the remote control in one hand and my penis in the other.