Swimfan
My friend
Reni
came from Moo-Town to spend a night/day in Chicago. While she was here she watched
Swimfan
. I had completely forgotten I owned this DVD. I bought it a few years ago only because I thought
Jesse Bradford
was total
Beefaroni In Training
. The movie disappointed me a bit because there really weren't any good scenes with Jesse in his speedo. That shocked me considering the the subject matter of the movie. Either way, Jesse had such Beefaroni potential. He was so adorable, had a cute little body and had that "hot nerd" thing going on. All he needed was a little more gym time and some extra protein shakes. (I could have helped with the latter)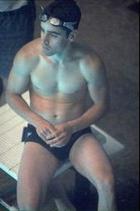 Out of curiosity I checked to see what Dear Jesse looks like in 2006. Um can we say fucking scary????? I guess having Beefaroni potential is only good if one takes advantage of that potential!
Anyhoo, enough about Jesse. The funniest part of my day spent with
Reni
was when we were on the train going to the
The Signature Room in the John Hancock Building
(which, btw,
Charlie
had recently reviewed). There was a big advertisement for the
Gay Games
and Reni says to me
"Gay Games? I don't get it. Do they have like, flower arranging contests?"
I laughed so hard because she was serious!!!!! I love that girl! I don't blame her though. Even I will admit the whole concept of the Gay Games is a bit bizzare, BUT, there is a lot of fundraising for AIDS research that goes along with this AND the city itself benefits from all of the tourism revenue the Gay Games will bring in. I won't be attending but I am looking forward to the closing party at
Crobar
on the 23rd. That will be fun!