I Was A Teenage Alien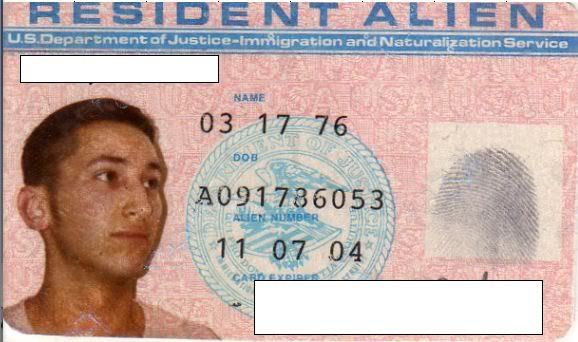 I was going to go to the gym tonight but I didn't realize they closed early due to the holiday. So I decided I should take advantage of this free time and finally clean out my walk in closet. Well, let me tell you I have found so many things I thought I had either lost (my very first Selena doll) or had thrown out. The above picture is an example of the latter category.
When I was 19 I was discovering Chicago for the first time. I was dating this Mexican guy from Aurora. He was a few years older than me and when I expressed an interest in obtaining a fake ID he was so nice to take me to a local woman's house who apparently made a nice living making fake green cards and social security cards for illegal immigrants. The woman looked at me very oddly as I asked her in my perfect english if I could purchase an alien resident card that would make me 21. Money is money though so she took my picutre with a poloraid camera, took my fingerprint and then went upstairs. She came back downstairs with a very realistic looking card. My friends who alread had real ones said even they were impressed by the authenticity.
So to make a long story short I was an illegal alien for 2 years of my life! My only regret is that I didn't one of those fake illegal names everyone seems to do. I would have loved to have been an "Elmer" or "Refugio" for a change! lol