Porn-A-Roni
I have noticed that despite the fact I can be so turned on by porn stars and the sexual acts they perform on camera, they really aren't that cute. In fact, if you really take a moment to think about it, except for the super muscled guys, most porno stars are pretty average or actually quite ugly. I think though that is their appeal. They are hot becuase they are regular guys (sometimes with not so regular cocks). Well, at least that's what I think. So I present three of my favorite
Beefaroni
porn stars who totally get me all hot and bothered when they are in action.
Johnny Hazzard
: Wow, big ears never looked so sexy on someone! Maybe I shouldn't have had my otoplasty afterall.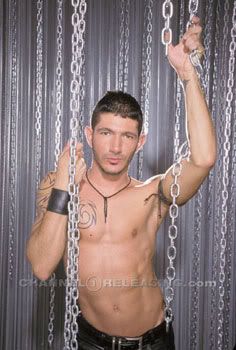 Mario Cruz
: He has the most amazing nipples and the biggest balls I have ever seen! Supposedly he's from Panama, so I don't understand the whole Mexican get up.
Miguel Leonn
: He's the one in the middle. Look at that nose! I know my
Sista M
appreciates a big schnoz and so do I! Miguel's website though is hilarious. He takes himself just a little too seriously.