Top 8 Albums of 2008
1. Playa Limbo - Canciones De Hotel
: It took awhile for this Mexican pop band to release their debut album in the US but it was a refreshing change from the majority of the reggaeton polluting the airwaves. I've heard people compare this group to
Belanova
and I still am not sure why. There are no pulsating synth pop beats here. Instead,
Playa Limbo
keep the songs light and sweet with plenty of acoustic and melodic arrangements. The album as a whole flows well to create an absolutely sublime listening experience!
2. Janet Jackson - Discipline
: It seems like Janet will never be able to recover from that Superbowl incident, but the people who bothered to pick up her latest album know that she hasn't completely lost her pop/dance sensibilities. The pulsating lead single, "Feedback", paved the way for the rest of the album's pop gems. The ballads were throwbacks to Janet's hey days in the 90's and the uptempo grooves were a nod to the future. Even Janet's obligatory sex song, "Discipline" sounded quite refreshinging and brought back memories of her S&M tinged "Velvet Rope" album.
3. Kylie Minogue - X
: In my opinion Dannii will always do it better. However, regardless of the poor US promotional tactics (Kylie's performance on Dancing With The Stars was frightening) this album was one of my favorites in 2008. Some criticized the lack of "depth" reflected in the lyrics after battling and surviving breast cancer. Well, I say that I would rather listen to a good, solid pop album than some sappy drivel whining about how sick Kylie was. From the giddiness embodied in "Wow" to the complete ecclectic oddness of "Speakerphone", Kylie keeps the party going!
4. Madonna - Hard Candy
: Similar to Kylie, Madonna's latest album had people either loving it or loathing it. The imagery and concept was a bit confusing at first I will admit, but much like God, Madonna works in mysterious ways. Underneath the delicious urban dance cuts like "Heartbeat", "Beat Goes On", "Dance 2 Night" and "Give It 2 Me" there is clearly something something else Ms. Ciccone wants us to know. Hindsight is 20/20 and we all know now this was Madonna's divorce album. Songs like "Miles Away", "Devil Wouldn't Recognize You" and "She's Not Me" aren't just catchy pop tunes, but the confessions of a woman in the midst of a failing marriage. Hard Candy is the most unlikely divorce album but it works well in the end!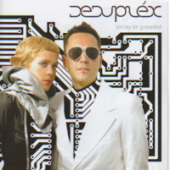 5. Deduplex - Sin Ley De Gravedad
: This duo keeps their album short but sweet with only 9 tracks of synthpop bliss. They avoid bubble gum pop cliches (ie Belnova) without going the melancholy depressed route either (ie Moenia). They remind me a bit like the British group,
Client
with their well orchestrated album of electronic tunes.
6. Pussycat Dolls - Doll Domination
: None of these girls are especially talented and their music is essentially a well packaged product delivered directly from the the record company. But you know what, who cares? If I spend $15 on a cd I want good music! This album delivers just that with the catchy hit singles "When I Grow Up" and "I Hate This Part". The party continues with other infections songs like "Bottle Pop" and "Watchamacallit". Kudos for the bonus disc of the deluxe edition. Kimberly Wyatt throw sdown with her solo song by covering Jane Child's "Don't Wanna Fall In Love"!
7. B-52's - Funplex
: There were several veteran singers and groups that released albums of new material this year after extremely lengthy hiatuses. I'll get to some of those on my "Worst of" list but right now I have to rave about the B-52's. Out of all the unlikely comebacks, this group pulled it off the best. Depsite the fact the members are all pushing 60, they came back from 16 year break to deliver an album that not only remains true to their zany new-wave dance rock sound but successfully update it for 2008. The debut single and title track, "Funplex" is absolutely brilliant. Cindy and Kate sound amazing and Fred Schneider is still doing.....well, whatever it is that he does! LOL. My only complaint is that album is too short. With such great material, 11 tracks isn't enough!
8. Monica Naranjo - Tarantula
: This album is nothing short of stunning (I can even overlook the Army Of Lovers rip off!). It plays more like a theatrical masterpiece than a music cd. Monica returns after an 8 year absence and delves deep in her soul and presents 11 stories that she meticulously narrates with her thunderous voice. Monica doesn't entertain with this album. She enchants.
Bonus Pick!
Mylene Farmer - Point De Suture
: Despite my inability to understand her lyrics, I fell in love with French recording artist Mylene Farmer several years ago. One doesn't need to understand what she is saying to appreciate the layers of emotion expressed over the hypnotic and captivating melodies present on this album. Mylene effortlessly flows from the dark electronic landscape of "Degeneration" to the sweet and ethereal world of "Appelle Mon Numero".