Shakin' My Ass in 2005
These are the
Top 5 Dance Songs of 2005
according to yours truly. These are the dancefloor anthems that had me shaking my ass with lots of class all year long....
Mariah Carey - "It's Like That (David Morales Club Mix)"
: Mimi came back in a BIG way this year. The poor thing had a hard time finding clothes to contain all of that talent, lol, but seriously this was the first Mariah remix in years to really catch my attention. She was finally back with the legendary David Morales and even redid the vocals! Way to go Mariah!
Shapeshifters - "Back To Basics (Main Vocal Mix)"
: This was the follow up to last years UK #1 hit "Lola's Theme" and didn't stray too far from that winning formula. Updated disco/house beats with some soaring strings and smooth diva vocals made this song pure dancefloor bliss.
Suzanne Palmer - Home/Luv 2 Luv (Offer Nissim and David Morales remixes)
: Chicago's very own dancefloor diva paid tribute to her home town with this double A side single. It was nothing short of a miracle to see her follow up these two fierce tracks with her long awaited full length album. I cannot tell you how many Friday nights during the summer I grinded with hot, sweaty, half naked men at
Hydrate
to this song. I still get moist thinking about it.
Pussycat Dolls - "Don't Cha (Ralphi Rosario Club Mix)"
: Yes, this song was played to death and the most ironic part of them singing "don't cha wish your girl was hot like me" was the fact they are all butt ugly. Regardless, this was THE jam of the year. So much attitude and dancefloor drama will get even the most bitter queen dancing around with his hands in the air! I personally think this remix was even better than the original version.
Stonebridge f/Therese - "Put 'Em High"
: This song was originally released in 2004 in the UK, but finally got a North American release this past spring. If this song doesn't get you moving then I am afraid you should start looking into retirement homes. The lyrics especially make me giggle, "baby I don't care where you been before, just put 'em high". Ummm, is that a polite way to tell your partner "look, I know you are a big slut but that's ok, just throw them legs in the air!". Who said dance music can't have profound lyrics?
If you haven't heard these songs/remixes I highly suggest you check them out, especially if you are one of those people
who know nothing about dance music.
Wow, all this talk about the fiercest dance tunes of 2005 has got me all hot and bothered..........some
BEEFARONI
should take care of that! I mentioned
Hydrate
before for a reason. This past summer during one of my slutty moments, I was in the bathroom and next to me was this motherfucker that looked just like
LL Cool J
and he had a 9 inch penis to match (and that was when it was just soft! good lord!). Anyhoo, I was too drunk to be articulate enough to invite him to spend the night but I suppose these photos can help ease the pain.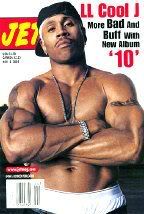 Grrrrrrr! I remember in the 80's when LL was just kinda cute, but then in the 90's he got all those muscles. Does anyone remember the "I'm Bad" video in which he is wearing those gym pants and you can see his big ol' dick flopping back and forth? Grrr...I do. Yummy! Apparently there is a rumor LL is into trannies. Hell, if this is true I will throw on a wig and makeup so he can pound my mangina!
And to show that I can still apreciate his music too, here is my LL Cool J Top 5 favorite songs.
1. Pink Cookies
2. Big Ole Butt (such a campy video, a BOX classic!)
3. 6 Minutes Of Pleasure
4. Doin' It
5. Around The Way Girl