Fat Blonde Tuesday
Ok, so I will admit I had a total blonde moment in my last post as I pondered the reason behind Sidetrack's Mardi Gras celebration on a Tuesday night. I swear I know what "Fat Tuesday" is. I guess I just expect these sorts of things in the middle of the week.
Needless to say though I had fun. There were 7 performances by local dancers (JQ was one of them) depicting the 7 deadly sins. Um, can we say the perfomances were hot! I think everyone was getting a bit aroused, or maybe that was just me? Anyhoo, in between performances I walked around and mingled with crowd. My homegirl Wanda was a bit late in showing up so I had to work my social skills as I waited. Once he arrived I decided it was time to spice things up. I was driving that night AND I had to be at school the next day at 10am so I couldn't get drunk. However I showed my Mardi Gras spirit by getting body painted! Sidetrack brought in some artist guy who was airbrushing colorful designs on anyone who wanted one. So here I am before my transformation acting silly.....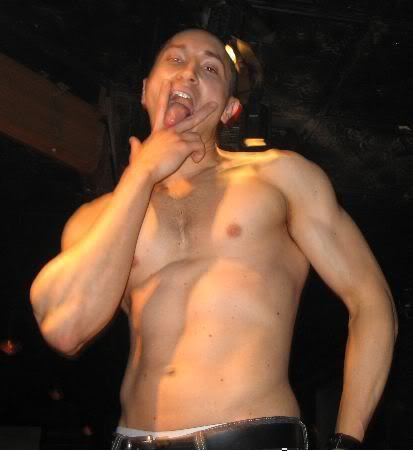 and after.....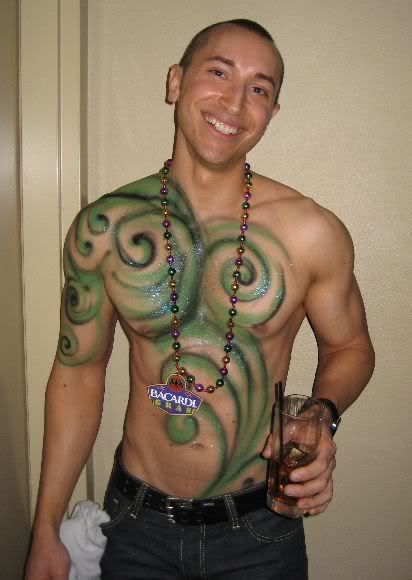 Someone was telling me who the painter guy was....the son of some famous Chicagoian, but I forget who. Either way I thought he did a fierce job! I could stop lauging though as he painted me. It was very cold and it tickled. I think I was causing a scene because during the body painting process I noticed some strangers taking pictures of me with their cell phones, lol.
Well, the performances ended at midnight.
JQ
finally was able to come out and say hi. One of his friends happily took a picture of my homegirl Wanda and I before we had to leave.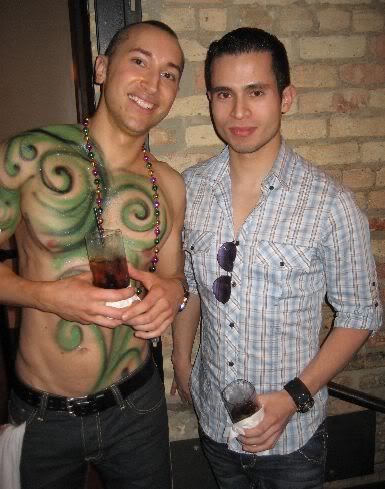 Both Wanda and I agreed it was nice to get out for a change during the week. I know I have felt like lately my life consists of nothing but school, work and sleep. I think I need to find time to enjoy myself like this a little more often. It really de-stressed me!