Heart Of Stone
If Carmen Electra inspired me to be a go-go boy then
Cher's
"Heart Of Stone" must have inspired me to be a stone statue.....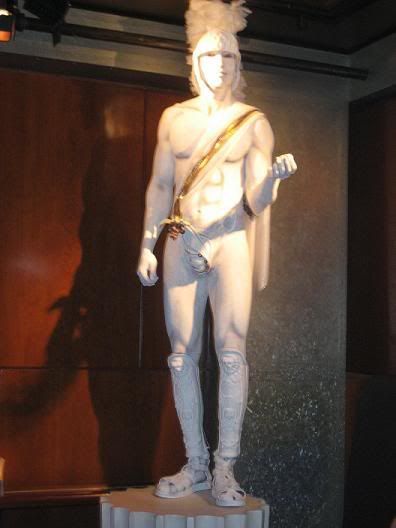 Yes, underneath all of that body paint, helmet and crotch cup is ME! Last week Wednesday and Thursday I was hired to be part of
Sidetrack's
25th Anniversary Party.
The theme was "history" hence the Roman statue look. The event was a private affair for Sidetrack's most devoted clients and let me tell you some of these people really thought I and the other boys were real statues until we started to move. I think I scared one poor tranny shitless that her silicon boob almost popped! LOL! I had a fun time doing this....especially standing around in nothing but a sock with 6 other hot guys as we were painted, but I must say standing up on a pedestal for 2 hours left me with extremely sore legs on Friday. Nevertheless I met some really great people that night (in particular the Sidetrack staff) and walked away with enough money so I won't have to use my credit card at the grocery store the rest of the month! Woo hoo!
I finished the week on Friday when
Circuit Mom
and his partner invited me to some fancy smancy social gatherings! It was definitely the most interesting evening when they took me to the unveiling of a "personal development night club" (don't ask, lol) that one of their friends had designed. The whole thing ended up being more of a cult like sales pitch but afterwards we went to a party hosted at some millionaire's penthouse condo downtown. Um wow....it was mind boggling to see how extravagantly these people live. I felt like a goddamn homeless person as I stood outside in their rooftop garden overlooking all of downtown. We all had to end the night early but I had a great time enjoying free champagne and hanging out with two of the most fascinating people I have met in a long time!