Promiscuous Boys
This past weekend I volunteered at a street festival in Andersonville. I walked around handing out condoms, lube, dental dams and information about safe sex. I never would have imagined that giving back to the community like that would make me feel like such a common whore! I think the tranny prostitutes outside of Berlin probably get propositioned less than I did that day. If only I had a dollar for everytime someone asked me for a "demonstration" or put their hands down my pants. Drunk people at street festivals have no shame! Well, neither do the slutty sober volunteers.
The title of my post today though is not about my questionable volunteering tactics (or my personal life in general for that matter) but it is a reference to where I was last night......
Nelly Furtado
was in town and I had fourth row seats!!!!!! Woo hoo! I had a blast. I was also happy that I had a camera with me because I was able to take some great pictures being so close. The setlist was for the most part pretty predicatable (I'm Like A Bird, Turn Off The Light, Maneater, etc). She threw in her own covers of Gnarls Barkely's "Crazy" and Blondies "Heart Of Glass" to spice things up a bit. I personally thought her wardrobe could have been a little better and her dancers were ugly but other than that she sounded AMAZING. My friend and I probably didn't sit down during the entire show however we still couldn't keep up with the two coked up girls next to us. Fortunately they had to make several trips during the show to "powder" their noses so my friend and I had extra room to jump around like big ol' girls. Ironically, on the other side of us was a couple who looked comatose through out the entire show. What a waste of fourth row seats if you ask me.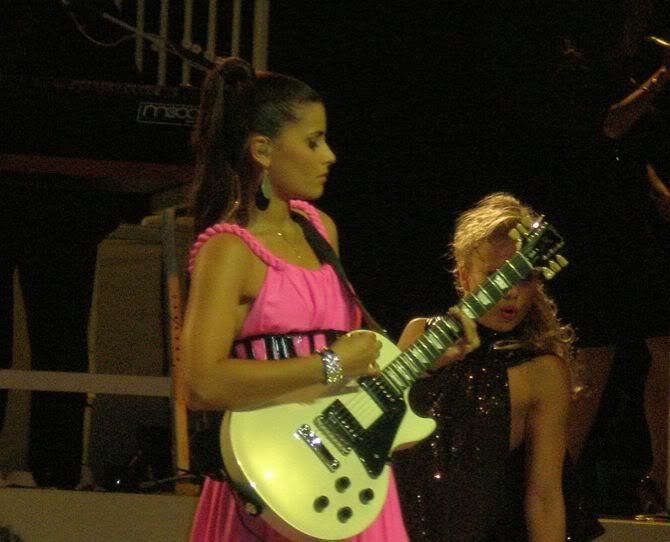 We skipped Nelly's opening acts and had some drinks instead in the lobby........as you can see we were a bit buzzed before Nelly started!