Arabian Knight
So much has happened since my last post (not counting yesterday's Uk editorial). Thanks to my
Finals Fairy Godmother
, who blessed me with a most wonderful gift, I survived my final exams last week and I have completed yet another quarter at school on the
Dean's List
. Woo hoo!
To partially celebrate that, my new apartment, and all of the new music
Dannii Minogue
has given her fans this holiday season, I hosted the first of two Sexbox Throwdowns at my new (maxi) pad. I am doing my parties in installments because I learned a long time ago that sometimes it's best NOT to mix different groups of friends. The clash of personalities ends up being more of a headache than it's worth. Besides, having more than one party gives me a reason to get really fucked up twice in one month! LOL! I must thank my
Milwaukee Sister
for the fierce photos.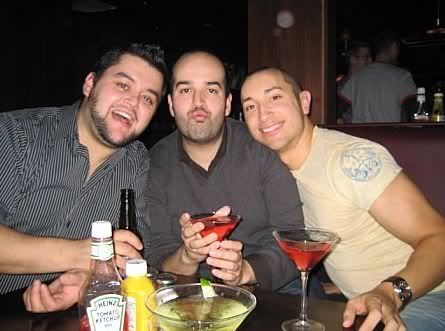 I don't have any classes this week because of the holiday, but I did have to go into work both today and Sunday.......which brings me to the title of today's post. As hard as it may seem, at work I maintain a strictly professional attitude. I do not discuss my personal life (including my sexuality) or anything else for that matter that I feel has nothing to do with my actual job duties. Subsequently, I tend to keep my hormones in check when it comes to hot guys at my job. Fortunately 99% of the employees at the hospital where I work are either old or ugly. Occasionally there is an exception.......like the hot built blonde guy who works in a different department. I always make time for small talk with him even though I am sure he is straight. That doesn't stop me from imagining him naked and licking him from head to toe every time he is near! My most recent hottie encounter though has been a cute and VERY charming arabic/italian security guard. I met him for the first time the other week when I was working alone in the lab. He was doing his routine security rounds and stopped in the lab. The first thing I noticed were his beautiful hazel eyes. Well, since then we have run into each other a few more times and he always takes time to chit chat with me. Ironically I found out today he lives only a few blocks away from me! Did I mention he also works part time as a Chicago cop?
*insert instant boner here*
Well, I am getting gay vibes from him but I could very well be confusing his genuine friendly personality with something that isn't really there. Only time will tell but you know what they say.....save a horse and ride a camel!