Join The Impact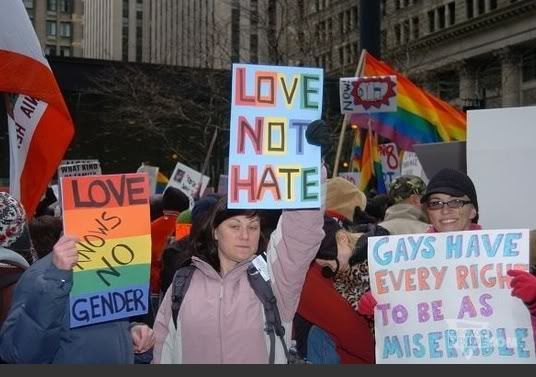 Join The Impact
Repeal Prop 8
I must thank an anonymous visitor for giving me the heads up about a protest against Prop 8 here in Chicago last weekend. unfortunately I didn't find out the time, date or location until I was 130 miles away in Peoria attending a student leadership retreat for
ICHP
. Well at least I was doing something productive! The pictures above were stolen from another website. I also posted a link to a website that has information about all of the protests going on nation wide. Anonymous comments are still welcome but I will be better prepared next time!
Wow, it is amazing how this issue is suddenly blowing up. It's about time. We have watched our right to have our monogamous relations recognized by the government smashed in 30 states. Now the religious fascists are targeting gays that want to adopt (already illegal in Arkansas). I think even people who had that apathetic "well who cares about getting married" attitude are starting to wake up that this is going to escalate out of control unless we step up now. I mean, what's next? If gays shouldn't adopt perhaps they aren't even fit to raise their own biological children?
Anyhoo, other than worrying about gay marriage in California I have been busy with final exams. Actually I should be studying right now........
Ok, gotta go!