Did I Do That?????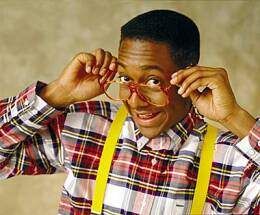 This past weekend while getting drunk with my
Milwaukee Sister
and
Rob
, I revealed a deep dark secret from my dorky childhood that made me remember about all of the extremely nerdy and dorky things I did as a child growing up. Wow, it's no wonder the kids called me "Steve Urkel" when I was in middle school!
Gym class was the worst. I was the stereotypical sissy boy who coudn't throw a ball. In 7th grade I was so embarrassed to take showers that I told my gym teacher I was Muslim and couldn't do it for religious reasons. Finally in 8th grade I got the nerve to do it and discovered how fun it actually was to be surrounded by naked, wet boys, lol. i am sure my gym teachers laughed behind my back. Especially the one time I had to play football and I was practically in tears telling Mr. Soto
"but, but , I don't know HOW to play football!"
God I was pathetic!
My most traumatic moment in gym class though was probably when we had to do wrestling. I refused to wrestle so for three weeks I would hide inside my locker during gym period! Luckily the lockers were rather large. I did get caught however when I came out of the locker to use the bathroom! Damn!
Probably the other thing that made me such a target for bullying was my horrible sense of fashion. I blame my mother though for most of that.
-Bright blue tennis shoes (they practically glowed in the dark)
-Striped Cross Color pants that were 5 sizes too big (they looked like clown pants!!!!)
-tacky silk shirts
-anything made by ProSpirit or ProWings
-Kmart brand jeans! lol
oooh, and let's not even mention the time my mom bought me these metal studded black boots. I told her they were girl shoes but she didn't believe me and she made me wear them. needless to say I was beat up at school for a whole week straight until she finaly bought me regular tennis shoes (well, if you call K-mart Slider's "normal"). yeah, the rest of the year I was called "fairy boy". how ironic? lol
I definitely earned those "Steve Urkel" comments!
Ok, moving on to other things.....
Woo hoo! I bought my ticket to go see
Moenia
at the
House Of Blues
Sept. 2!!!! I am so excited. This is going to be my 4th time seeing them! They are definitely my favorite group ever (as you can see on the left I have their most recent album proudly displayed). The only bad part is they are coming with Aleks Syntek. I am not a fan of his at all. I am praying to god Moenia goes on first so then i can just leave.....or wonder over to the bar and get drunk! lol.
Not much else to report here. As I mentioned earlier I went out this past weekend and got drunk (how original). It was Market Days on Halsted Street so all of the clubs and bars were extremely packed. I was so annoyed that I had to wait 30 minutes in line BEFORE midnight. Next year I guess I am going to arrive a 10pm!
Well, two more weeks are left of my summer vacation before I head back to school. I am trying to use the rest of my free time wisely by study for the PCAT. trying to get into pharmacy school is a bitch!