"I'll rip your fucking dick off!"
(or maybe just suck it)
That is one of
Mario Lopez's
many cheesy attempts at being macho in the homerotic low budget sci-fi thriller,
"Absolution"
.
I bought this VHS a few years ago on ebay and apparently now it is a very rare and sought after item. Someone is selling it on Amazon for $185! Anyhoo, two weeks ago I decided it was time to transfer this classic film to DVD, since there is no commerically available DVD to purchase. I watched the film again and I forgot how terrible it was. Basically it is all about Mario Lopez's character going undercover in this futuristic army training camp that is suspected of harboring aliens. For 90% of the movie, Mario and his equally hot and
beefaroni
comrades are shirtless, in their underwear or in towels. Seriously. The movie is so overtly homoerotic that one can overlook the bad plot, bad sets and bad acting. The most hilarious moment though is the most uncomfortable and unnatural looking "love" scene ever filmed, between Mario and Jamie Lee Pressly. it is about as sexually arousing as a commercial for
Depends
. But anyhoo, check out the hotness: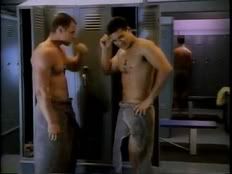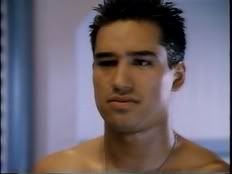 I especially love how high the slit in Mario's towel is!
And to continue with today's theme of former Beefaroni actors in homoerotic films/roles, I bring to you one last screen cap from
But I'm A Cheerleader
, a hilarious comedy about a girl forced to come to terms with her lesbianism. The film featured the dimplicious
Eddie Cibrian
as a hilarious queen....check Eddie out while he strokes his pole.....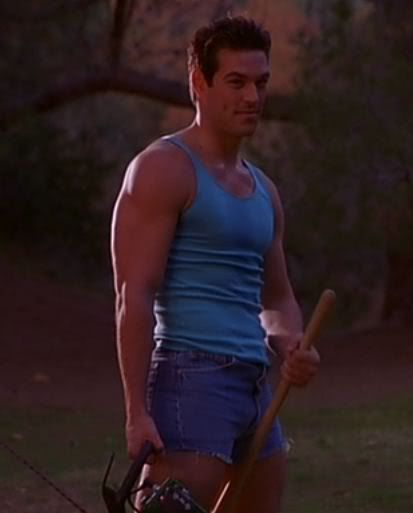 I think this post proves I like more than just horror movies!