Miss Jackson If You're Nasty
Last night I attended
Janet Jackson's
"Rock Witchu 2008 Tour". Earlier this summer I had received a pre-sale password for tickets so I ended up with decent seats. At the time I wasn't sure who I would be going with (Janet just isn't that popular nowadays!) but things worked out well as it was one of my
Secret Friend's
birthday this week. So, I am not one to give long drawn out stories detailing my concert experiences but I think this sums up everything quite nicely.
1. Janet's "in between albums" weight should have discouraged her from wearing some of those outfits. Of course, I think the outfits were bad regardless of her thunder thighs.
2. Janet's hair screamed "hot tranny mess".
3. The set list was quite delightful! Never have I seen an artist with such an extensive catalogue cover ALL of the hits AND throw in a few goodies for hard core fans. Granted she ignored "hits" like "Because Of You" but who even remembers that song anymore? Now, i practically SHARTED with excitement when she threw down with a medley of her pre-Control songs. As soon as she said "1982 Young Love!" I started screaming like a little girl getting her period for the first time. I tried to video tape the performance but I was too busy jumping up and down! LOL
4. Janet has no shame when it comes to lip syncing. She doesn't even try to hide it! Ashlee Simpson take note! LOL
5. The videos projected on the screens in the background were lame and reminded me of those old TV advertisements for Zelda back in the day.
6. Those same video screens though were actually quite cool when it came time for her duets with Nelly, Dave Navarro and Q-Tip.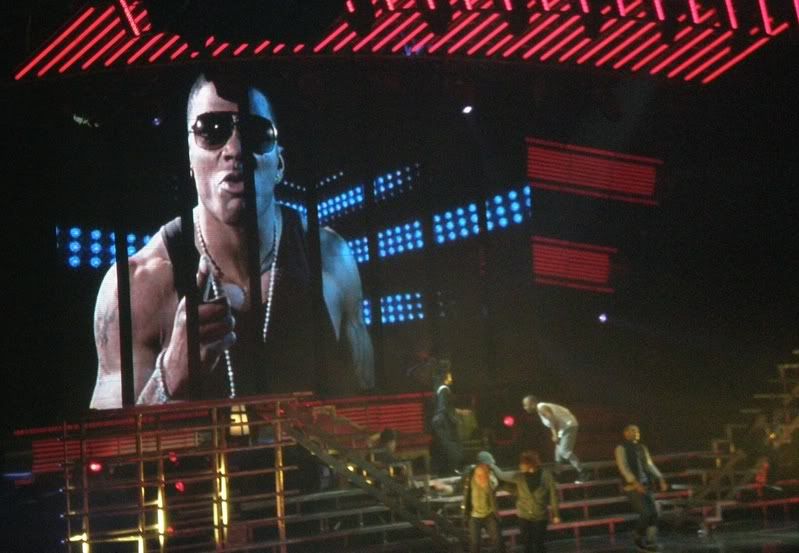 On a side note, can I just say Nelly is SOOOOO freaking HOT! YUM!!!!!!
7. Speaking of hot, sexy, muscular male rappers, LL Cool J was the opening act. As much as I love his new album I must admit his performance was terrible. I heard so many people in the audience (even the ghetto ones! lol) breathe a sigh of relief when he finally finished.
So overall the concert was good enough to keep me dancing so much that today my poor calves are killing me! Ouch!