Ricky Martin: Blanco Y Negro 2007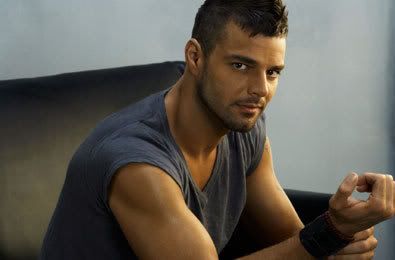 Last night I had the pleasure of finally seeing my husband,
Ricky Martin
, live in concert. To be quite honest I didn't know what to expect. I was not familiar with Ricky's reputation as a live performer. I have his "Unplugged" concert on DVD but I figured this tour was going to be a little more extravagant than his acoustic session for MTV. After last night though I can conclude that not only is he amazingly SEXY but he is one of those live performers that leave you in awe. He gave 120% on stage. He was jumping up and down all over stage, doing backflips, standing on his head and at one point he literally climbed up the wall to sing atop an elevated platform. Madonna, as physically agile as she is, ain't got nothing on Ricky's acrobatics! lol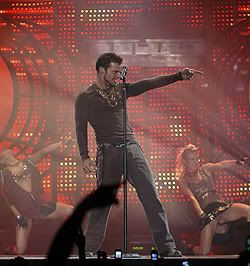 And can we say what an amazing vocalist????? His voice is simply stunning. It's a shame that in this country he will for the most part be known as the "Livin La Vida Loca" guy but fortunately his fans who have were there before he ever recorded in english and continue to support his still massively successful spanish language albums today know how truly talented this man is. I think my favorite part of the concert was when he took a few minutes to actually speak to the audience and explain the concept behind the tour. There were huge video montages of a naked Ricky floating in a water that seemed to resemble a fetus in the womb. Ricky went on to say how far he has come spiritually and that he finally understands the meaning of "gratitude". It was a bit cheesy, I will admit, but I think by actually talking to the audience like that he made the atmosphere feel so much more personal. I couldn't help but think back to Gloria Estefan's last tour. She did the same and despite the fact i was seeing her in a large venue I felt like I was hanging out with her in her living room.
As for the setlist, it was varied and quite unexpected. His hit songs like "She Bangs" and "Te Extraño Te Olvido Te Amo", "Juramento" and "Nobody Wants To Be Lonely" were oddly missing. Classics like "Living La Vida Loca" and "Maria" appeared with entirely new arrangements while some of his more obscure songs like "It's Alright", "Drop It On Me", and "Revolucion" fell in between more popular songs like "La Bomba", "The Cup Of Life", "Vuelve" and "Asignatura Pendiente". He ended the concert with two encores, 2003's #1 "Tal Vez" and his most recent #1 song, "Tu Recuerdo".
And finally can I just say how much I LOVE how he dresses? I have always admired his ability dress in such a way that he exudes masculinity with just the right amount of flamboyance!