But strangers have the best candy.....
Toronto was fun! Well, sort of. It was relaxing and nice to be away. I honestly didn't do much sight seeing. Instead I just hung out with my friend Brandon and did dumb stuff like go to the beach, go shopping, go to bars, go to restaurants, etc. I suppose what was so nice about my trip was that it was the first time I took a 500 mile road trip AND traveled outside of the USA.
So here is a quick run down of my 4 day weekend.
1.
Mapquest
is fierce. However, it cannot prepare you for a 2 hour wait to cross the border on a busy Friday afternoon nor can it do much when you take a wrong turn going home and end up in Detroit during rush hour.
2. Wow, they treat you like a member of Al-Qaeda at the border, coming and going! They were fuckign rude assholes. Thank god I had my passport. I can only imagine how the border officials would have harrassed me even more if I hadn't had it.
3. Toronto is pretty. It is also VERY multicultural, but not in the same way that Chicago is (in other words there aren't Mexican and Polish people all over the fucking place! lol). It seemed like everyone was from somewhere
4. I thought it was so cute that all of the product labels at stores are written in French and English.
5. The Gay Village is where they filmed Queer As Folk and it really did look like how it did on TV! And there really is a bar called "Woody's"!The village is a very cute area....but EXTREMELY cruisy! Jesus Christ. The men literally are on the hunt for sex 24/7. Even Chicago or New York isn't that bad. What's worse though is the city isn't that big. I bet everyone has slept with everyone 100 times over.
6. The night life in Toronto is not very good. Bars close early and at every bar they literally measure the alcohol in shot glasses when making mixed drinks. It's best to just drink at home and then go out.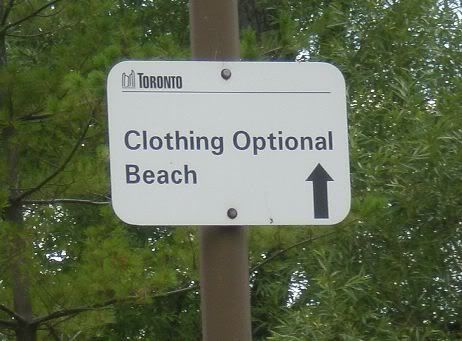 7. OMG. I chose the option to keep my clothes on but the same can't be said for one particular tranny! Oh no! I saw a
"Chick With A Dick"
up close and personal in the nude! I later on ran into her at a bar and she was flashing her titties and cock to everyone in the bar! LOL!
8. Bringing a chocolate bar on a summer road trip is not a good idea. I never had to poke a hole in a candy bar wrapper so I could drink it!
9. Wow, I never realized just how fuel efficient my Toyota is. I was able to go from Chicago to Toronto on just one tank of gas each way!
10. As for the title of the today's post, that was a t-shirt I saw at the beach and I just thought it was the funniest thing!